Opportunities for more people to enjoy one of Bath's important green spaces by bike or on foot is the aim of a new multi-use activity park to be created at the former Entry Hill golf course site.
Following an open procurement exercise, Bath & North East Somerset Council has agreed to appoint Bristol-based company Pedal Progression to provide a new family cycle and activity park that can be enjoyed by bikers, families, walkers and nature-lovers alike.
The park will provide free access to park areas and trails for walking and cycling, a learn-to-ride area with pump track and a new natural play park.
New wildlife habitats and wider biodiversity will be encouraged with a nature garden, pond and community growing area. There will also be a new and expanded café with seating and viewing areas across the park.
The bike park design seeks to give all people of all abilities the opportunity to enjoy an exciting bike ride – including balance bikes and disability trikes to tandems and mountain bikes. It will link to existing and new cycle routes and promote walking and riding to access the site, encouraging people to leave their cars at home.
Pedal Progression, a skills coaching and bike hire company, is committed to engaging with the local community as they seek to get more people, more active, more often. Residents living locally to the park will receive letters from the company in early March.
It is hoped that the cycle park will open in spring 2022 with the café expected to open in summer 2021.
Councillor Paul Crossley, cabinet member for Community Services, said:
This exciting new multi-use park will breathe life into Entry Hill, creating a place that brings people together to enjoy being active in a variety of ways.

It won't solely be a place for bikers – it will equally be a green destination for walkers, families and nature-lovers that will boost the biodiversity of the area. We've seen during lockdown how people have made great use of the site for exercise and dog-walking and we want this to continue.

It's going to be a pleasant space that boosts people's wellbeing as well as their health, which will be particularly important in the wake of the pandemic.

Our robust open procurement exercise has selected the bid which best meets our priorities including encouraging people to be more active, ensuring there is leisure provision for all members of the community to engage with and meeting our climate and ecological emergency goals.

Thank you to everyone who gave their views in the consultation leading up to this appointment. I hope the local community will continue to have their say and help shape the plans.
Entry Hill golf course experienced a continued decline in visitors over more than a decade and operated at a significant loss to the council of up to £80,000 per year.
The council held a public consultation between December 2019 and March 2020 to find out how residents wanted to shape the site for the future. Responses highlighted that a majority of people strongly supported a family cycle centre, while other popular options that were supported included having trails for walking and running and a park with a café.
The consultation was followed by an open procurement exercise in August 2020 under the rules of which the highest-scoring bidder is recommended for appointment. The proposal from Pedal Progression was commended for addressing the results of the consultation.
Matt George and Ollie Cain, directors at Pedal Progression, said:
Our plans for the Entry Hill site have always had a strong community element.

At the heart of our business is a deep belief that cycling including mountain biking is a great tool to bring people together to make the good stuff happen. We have also been very aware from early on that the beautiful green site, nestled in a residential area, should be developed sensitively.

We will look to offer much to the local community and wider Bath area as well as the cyclists who will want to use the bike park.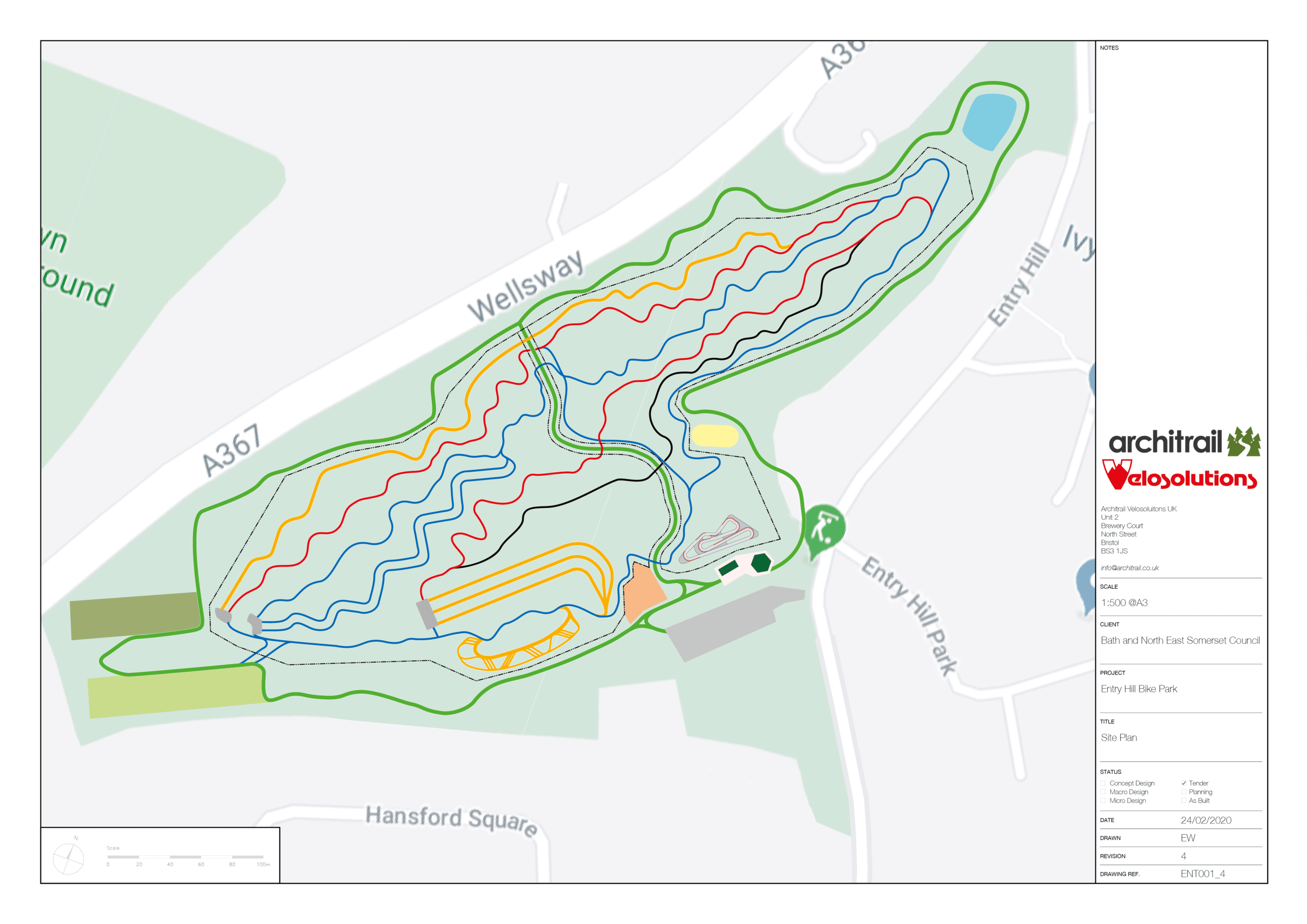 The park will also:
Provide activities for under 18s and helping to strengthen communities through providing volunteering opportunities and creating spaces to be used by the whole community.
Focus on providing new opportunities for adults and young people with disabilities through cycling.
Provide opportunities for wider community engagement; through offering regular community events, recruitment of 'community ambassadors' and free access to the ticketed elements of the park for community organisations.
Find out more about Pedal Progression and view their introductory video about the plans here https://vimeo.com/516392095/3e1d5b4990
The concept design for the park has been created in partnership with Architrail Velosolutions UK, a Bristol-based company which designs and constructs trails and pump tracks.
The report that went before Cabinet on February 11 about the decision on award of the contract to a new operator for the Entry Hill site can be viewed here