Bristolians are being urged to walk or cycle back to school, college or university, as a number of projects to make it easier and safer are rolled out across the city.
Since lockdown, Bristol City Council has accelerated a number of major transport improvements to support social distancing and make it easier to walk or cycle for short journeys. This has included giving people more space with new bike lanes, pavement widening and prioritising some roads for buses, pedestrians and cyclists by removing through traffic.
Alongside this work, the council is looking to make cycling a more attractive option for anyone restarting their commute by offering subsidised cycling lessons, free bike loans and incentives to win prizes by logging journeys.
A number of schemes are also being set up to reduce congestion around schools by helping students to walk for at least part of their journeys.
Mayor Marvin Rees said:

We are working hard to create a more connected future for Bristol both in the long-term, and as we navigate the coronavirus crisis together.

With social distancing measures in place and capacity reduced on public transport, it is more important than ever to make walking and cycling a more attractive option.

There can be many barriers that stop people from getting active on their commutes, and we hope to remove some of those by dedicating more space to pedestrians and cyclists, alongside providing journey planning tools and cycling lessons for people of all ages and abilities.

Action we are taking now will help Bristol to emerge from this crisis in a more inclusive and environmentally friendly way, with cleaner air and more active and sustainable ways to travel for all.
The council is helping to make walking and cycling easier for people as they return to school, college or university, with:
Cycling lessons, travel planning sessions, free bike hire, maps and journey planning are available to help people new to cycling and with a range of abilities at staging.betterbybike.info and travelwest.info/communities
Active October: People can win shopping vouchers by logging their walking and cycling journeys through the October challenge with Travelwest and Sustrans. Any journey counts, whether it's for leisure, a commute or a trip made while working at home. Register online or visit travelwest.info for more.
New city centre bike lanes: traffic has reduced from two lanes to one on Lewins Mead and from Park Row to Marlborough Street, allowing for the installation of new bike lanes protected from traffic. Work being carried out on Sunday 27 September will ban the left turn onto St Michael's Hill from Perry Road for motorists and ban the right turn out of St Michael's Hill for all road users.
Community pavement widening and improved cycle routes: A list of changes to neighbourhood roads and an updated map showing new and existing cycle routes across Bristol is available at bristol.gov.uk/covidroadchanges
Park & Stride: the council can help to identify an area nearby to schools where children can get dropped off and walk the remaining short distance. Any student, parent, carer or teacher can make a suggestion by contacting transport.engagement@bristol.gov.uk
School Streets: Wansdyke Primary School and St Peter's C of E School are involved with a pilot for this scheme, which restricts vehicles from entering the zone around a school at the beginning and end of the school day. This removes traffic and makes it safer to walk and cycle to and from school.
20mph speed limits outside schools: Keep an eye out for new banners reminding motorists of 20mph speed limits following an art competition with local school children.
Bristol Bridge closure: Motorists risk fines for ignoring the new restrictions that have closed Bristol Bridge, Baldwin Street and Union Street to general traffic, improving bus, walking and cycling journeys through this area. Access remains to these streets, including for disabled bays and car parks, and the Old City area has also been pedestrianised.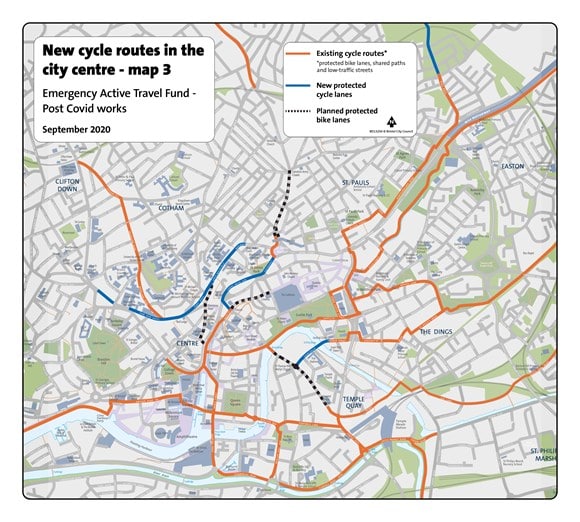 Cllr Kye Dudd, Cabinet Member for Transport, said:

It has been a challenging year for everyone as we've been forced to change our ways during the pandemic.

But we have also seen benefits with pollution levels dropping by a half during lockdown and big increases in people walking, cycling and enjoying the city's outdoor spaces.

We are doing our utmost to use this time to trial far-reaching improvements to Bristol's transport network to help us to capture those benefits and create more liveable neighbourhoods free from pollution and congestion.

Everyone has a role to play in cleaning up our air and we urge everyone to get out and make the most of the improved walking and cycling routes we are providing for at least part of your journey, whether for work, school, university, college or leisure.
Earlier this month the council also launched a new online hub of resources to support parents, carers and children as schools reopen to all students following lockdown.
For tips and advice on how to prevent the spread of coronavirus, including information on measures schools are taking
Link to Bristol City Council