Commuters who travel through the city centre can now make use of a safer, more accessible route across the Old Market roundabout.
The final stages of improvements to the roundabout have now been completed, with wider paths for pedestrians and a new high-quality off-road route for cyclists. The project was completed two months ahead of time and within budget.
The route has been improved through repurposing the existing space – no modifications have been made to the road layout and traffic will be unaffected. Traffic signalling infrastructure has also being upgraded.
The route through Old Market is an important gateway into the city centre for commuters and shoppers, while Old Market itself is a significant quarter for local traders and nightlife.
Built in 1967, the roundabout once featured underground subways and elevated bridges for pedestrians. However, these routes were inaccessible to those using wheelchairs and pushchairs, and were filled in and removed in 2015 and 2017 respectively.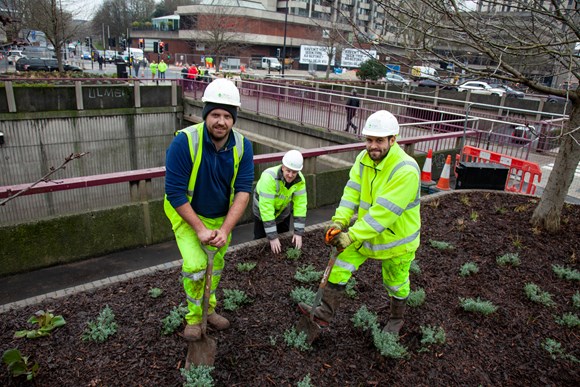 In 2018, Bristol City Council was given a £0.5m grant from the government's Cycle Safety Fund, and work commenced to improve the roundabout and extend the new cycle path from Bond St south towards Castle Park and the City centre.
This provides up to 5k daily cyclists through Castle Park with an alternative route to the Railway Path, through Redcross St and Braggs Lane (instead of the Temple Way underpass). Aesthetic improvements have also been made to the roundabout, which now features more plant life, improved surfaces and upgraded lighting.

"We've seen some great investment on the Old Market side but there was no link between this and the infrastructure in Castle Park – so this is another piece of the jigsaw in place, ready for more pieces to be added down the line.

This work has improved cycle safety and made Old Market a more attractive area for people to walk and cycle. We hope that more and more people will choose healthier, greener transport options in Bristol as a result of all the infrastructure improvements we are making.

Sustainable transport will play a vital role in helping us reduce the levels of air pollution in Bristol, and reach our goal of becoming carbon neutral by 2030."

"In Bristol, there is a lot of overlap between people on bikes and people on foot, which leads to unnecessary conflict. […]

We're very pleased to see that, in accordance with our submission at the consultation, walkers and cyclists have been segregated – which is better for both groups. So it works."
These improvements will help to accommodate increased footfall in the area, where several new developments are in progress. It is hoped that improvements to routes such as this will encourage more people to cycle and walk to work, improving personal wellbeing and reducing congestion in the centre.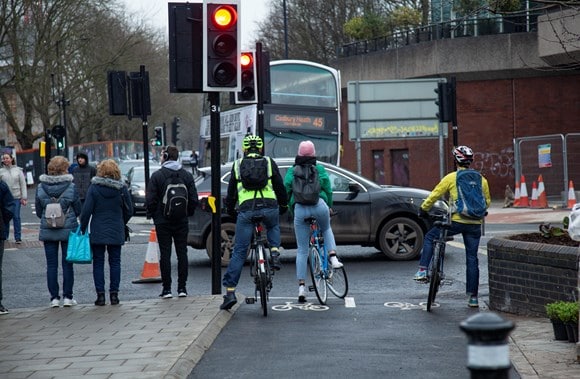 Please note that, while the central route across the roundabout is now open, the pedestrian crossing across the northbound lane of the roundabout is temporarily closed while signalling infrastructure is replaced. This final stage could take up to two weeks to complete. In the meantime, the northbound slip road will operate on a give way basis, just like at a normal roundabout.
We ask that pedestrians and cyclists please abide by the signage and barriers we've put in place and avoid using the northbound crossing until works are complete, for your safety.