Bristol City Mayor has announced plans to push forward existing transport plans.
A package of major transport improvements in Bristol have been unveiled, paving the way for safer and better public transport, cleaner air and improved walking and cycling routes.
In response to the coronavirus pandemic and lockdown conditions, the Mayor of Bristol has today announced plans to accelerate existing long-term transport ambitions in order to help Bristolians safely navigate the city.
The proposed changes include:
Activating existing plans to pedestrianise the Old City area of Bristol – by restricting vehicles during core business hours
Introducing a bus priority route over Bristol Bridge and at the entrance to Baldwin Street – This will help establish more reliable bus journeys and dedicated walking and cycling areas. Priority will be given to public transport, taxis, cycles and pedestrians travelling through the central area of Bristol. The route will be closed to general through-traffic
New sustainable transport, walking and cycling upgrades in central areas – including Marlborough Street, Park Row, Victoria Street, Lewins Mead, Stokes Croft and the Clifton Triangle
City-wide pavement widening for local shopping areas to enable social distancing – including Bedminster Parade, Stapleton Road, St Marks Road and Clifton Village
Working with bus providers to ensure social distancing – looking at how they prioritise key workers to give them the reassurance they can get to work
Issuing new guidelines to taxi and private vehicles, working with taxi representatives now – including cleaning and infection prevention measures.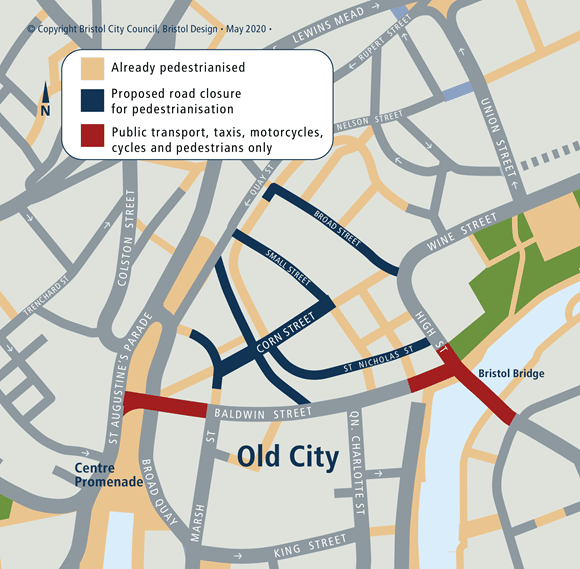 Many of these schemes were previously mapped out through the £400m infrastructure programme in Bristol's element of the regional Local Cycling and Walking Infrastructure Plan, and additional funding is expected from central Government, which promised £250m for regions for specific Covid-19 interventions to enable safer walking and cycling.

"Bristol can emerge from this crisis in a more inclusive and sustainable way by improving access to public transport and introducing safer areas to walk and cycle. Action we take now will contribute to reducing air pollution, improving people movement for all Bristolians and encouraging alternative sustainable ways to travel.

"Work on the Old City and Bristol Bridge proposals are already underway, but the coronavirus means we now need to accelerate the changes that will transform the way we travel in the city centre. For the future we need to ensure everyone has more travel options and these proposals are underpinned by the Bus Deal that we continue to progress, alongside our ongoing plans for mass transit.

"The current situation is challenging our usual travel habits and behaviour in a way that we've never seen before. Many of us have already embraced more walking and cycling journeys and, whilst it is understandable bus usage has dropped, we want to protect the long-term viability of our public transport services because of their intrinsic value to communities across the city."
Bristol City Council is exploring experimental traffic orders and full conversations will be made with the community before permanent decisions are made.

"These are far-reaching proposals for Bristol's future transport network, which is something we've been building towards for some time. We recognise that this will require adjustment and behaviour change and we'll remove through the city centre. We firmly believe the long-term benefits for everyone in Bristol outweighs the inconvenience while we make this transition.

"We've chosen specific locations for pavement widening and cycle infrastructure to help people social distance when they're shopping locally. This is based on an initial assessment of options that will require ongoing input from local residents and councillors.

"In addition, we want to make our neighbourhoods more people-friendly and therefore we're looking at establishing more liveable streets with less traffic on local roads. We will be bringing forward initial proposals as soon as we possibly can and we'll be keen to engage with communities."
Over the next couple of weeks, Bristol City Council is expected to announce further timescales for delivering the changes. Many schemes could move forward very quickly and will be implemented as soon as designs and plans are finalised. Bristol Bridge, Baldwin Street and the Old City plans are being drawn up using the fastest routes possible, meaning they could be delivered by late summer.