Cattle Market road – traffic management (May 2021 – September 2022)
Network Rail has created a segregated walkway along a section of Cattle Market road, to ensure the safety of pedestrians and cyclists during construction work linked to Bristol Temple Meads.
The shared route for pedestrians and dismounted cyclists means a safe route can be maintained through Cattle Market road, while ensuring a safe distance from construction traffic. The affected section of the path runs between the eastern side of the railway bridge up to the entrance of the existing building site.
When construction traffic is crossing and the entry gates are open, pedestrians and cyclists are asked to wait briefly until the route ahead is cleared and entry gates are closed. Stop/Go boards and a banksman will be in place to help manage the flow of traffic. We thank you for your patience.
The new eastern entrance is part of the Bristol Rail Regeneration programme and is funded by the West of England Combined Authority. When fully completed it will provide access to the east of the city and to a future university campus planned for Temple Island.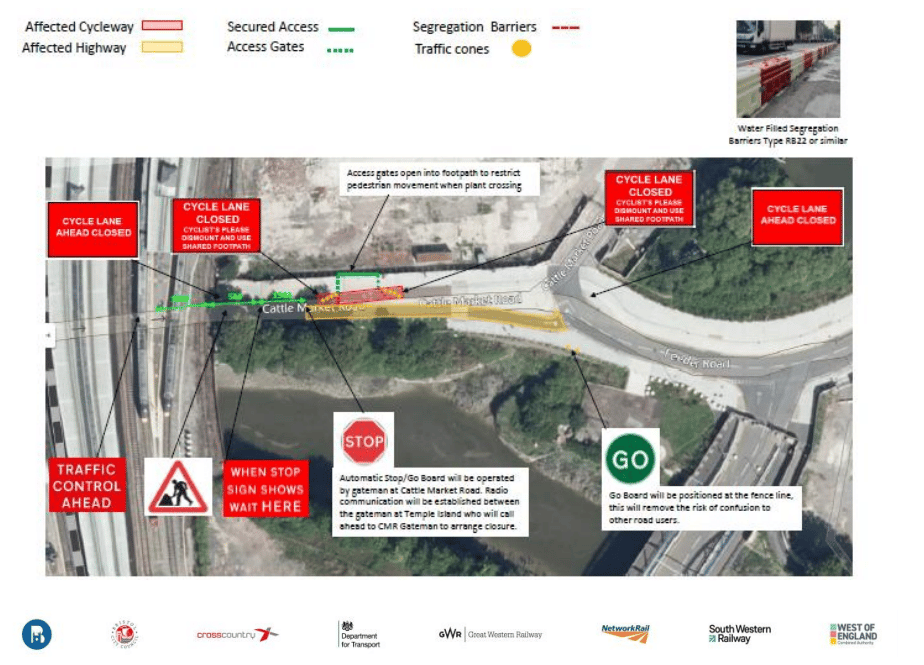 Further information
Q: How will these temporary changes to Cattle Market road affect me?
A: Network Rail's work does not affect access to Cattle Market Road for cars and other vehicles, however motorists should take extra care as construction traffic may be crossing the road. We are maintaining access for pedestrians and cyclists throughout the work via a segregated walkway, but space restrictions require cyclists to dismount while passing through a small section of Cattle Market road.
Q: Cattle Market Road is one-way. Will that make any difference for cyclists?
A: Cyclists travelling against the flow of traffic (towards Bath Road) will use the pedestrian path to the left of the road, while those travelling with the flow of traffic from Bath Road towards Avon Street and Feeder road will use the shared segregated route for pedestrians and dismounted cyclists.
Q: Why is the cycle lane being closed for such a long time?
A: The cycle lane isn't being closed. Traffic flows through the area are being carefully managed to keep everyone safe. The current construction plan for the eastern entrance runs until September 2022. This could be subject to change.
Q: What sort of construction vehicles will be in use and how is traffic being managed?
A: Construction traffic will include site vans, concrete wagons and large delivery wagons. When construction traffic is travelling alongside the walkway, an entry gate to the work site will form a barrier for pedestrians and dismounted cyclists who will need to briefly wait until entrance gates are closed again and the route is clear. There will be a banksman and another member of staff to escort construction vehicles and keep members of the public safe.
We hope this information is helpful. If you have any questions or concerns about the work taking place, please call our 24-hour National Helpline on: 03457 11 41 41 or visit www.networkrail.co.uk/contactus.